Possessing an EU passport in today's globally connected world is a benefit, as is the opportunity to visit various stunning visa-free destinations. Without the regulatory hurdles of acquiring a visa, the luxury of visa-free access opens doors to multiple cultures, spectacular settings, and rewarding experiences.
Visa-free travels allow people to embrace the world's richness freely, from natural wonders to cultural encounters. The freedom motivates EU people to widen their perspectives, cultivating a culture of curiosity and exploration and highlighting the importance of a free and open society.
Thus, it is essential to understand the significance of selecting the ideal destination. Therefore, this blog will explore the top 10 stunning visa-free countries for EU citizenship holders.
Visa-Free Countries for EU Passport
Let's explore the top 10 visa-free countries for EU passport holders you must consider before commencing your planning of visa-free travel:
1. Switzerland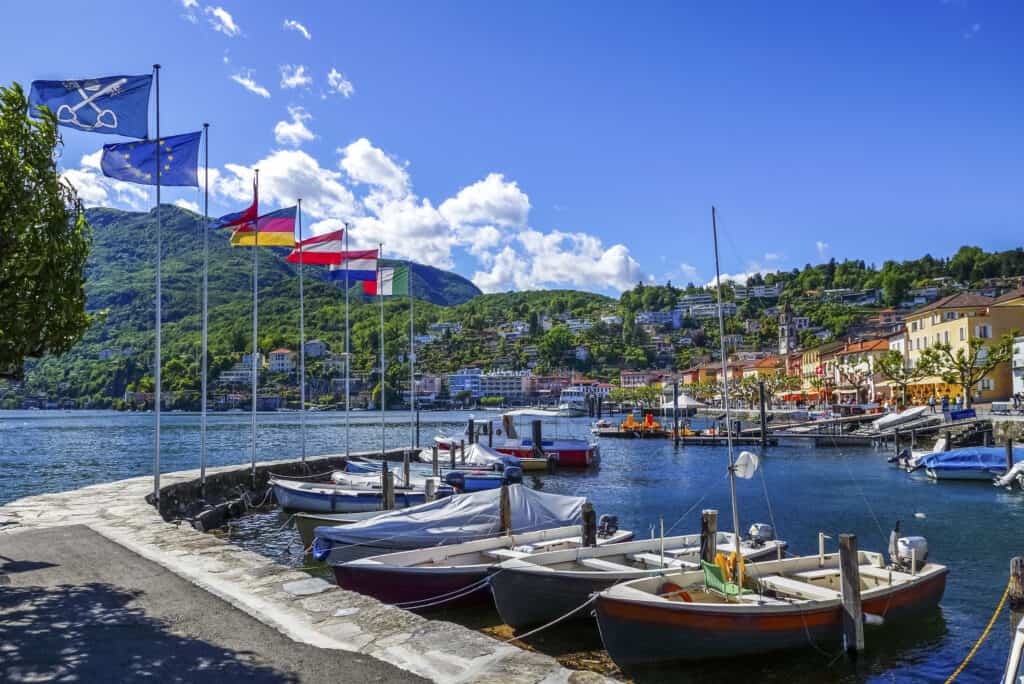 EU passport holders can visit Switzerland, known for its beautiful towns and spectacular Alpine landscapes. The Swiss Alps offer outdoor paradise with their majesty peaks and clear lakes. You can enable lasting memories while skiing in the winter, hiking in the summer, and touring attractive Alpine villages all year round.
A stunning fusion of French, German, Italian, and Roman elements can be seen in Swiss culture. Raclette, fondue, and renowned Swiss chocolates all make up the joys of Swiss food. You can also uncover museums like the Swiss National Museum and the Foundation Beyeler's art holdings. Fasnacht and Fete de l'Escalade are two holidays with vibrant traditions in Switzerland.
Yodeling and famous Swiss timepieces are two ways to immerse yourself in Swiss culture. Switzerland is a visa-free destination where the splendor of nature and the diversity of its cultural coverage ensure an enthralling experience for EU passport holders.
Read more about: 10 Richest People In Switzerland
2. Japan
EU passport holders have another visa-free destination to visit, which is Japan. Japan has innovative technologies that coexist with traditional culture. It offers a travel experience from the crowded streets of Tokyo to the calm serenity of Kyoto and the fleeting magic of cheery blossoms.
Tokyo, the country's capital, is a bustling metropolis where modernity and tradition blend smoothly. Shibuya Crossing's sensory explosion, Akihabara's innovative technology, and Tsukiji Fish Market's world-class food are all accessible to visitors from the EU.
Learning fundamental etiquette like bowing and using chopsticks properly will enhance your experience. Deeper insights into Japan's rich culture can be embraced by partaking in traditional activities like donning a kimono or ancient tea ceremony customs. EU passport holders have access to the captivating beauty of geisha, painstakingly preserved temples, and shrines.
3. New Zealand
New Zealand is a place for EU passport holders looking for adventure amid beautiful sights. This island country offers a memorable experience with its unprecedented spectacle of nature, stunning landscape, and dazzling beaches.
The majestic fjords of Milford Sound make it a work of nature. Cruises can take you through this enchanted landscape bordered by cliffs and waterfalls. Awe-inspiring natural splendors include the majestic Franz Josef Glacier and the bizarre Pancake Rocks on the South Island. In contrast, the North Island has calm beaches like Cathedral Cove, where golden sands with blue water converge.
New Zealand is the ideal destination for adventures, where bungee jumping originated, and places like Queenstown offer thrilling jumps. The vast network of options nationwide, including the well-known Milford Track and Tongariro Alpine Crossing, permits hikers to explore unspoiled nature.
An essential component of New Zealand's identity is the Maori culture. EU citizens can fully immerse themselves in Maori culture by visiting cultural venues, participating in a traditional haka, and enjoying local delicacies like the Hangi Feast.
New Zealand is a beacon with its natural beauty, thrilling adventures, and extensive cultural history. Travelers from the EU will undoubtedly find this Pacific paradise a world of astounding magnificence and exciting activity.
4. Argentina
Argentina is a country with a passionate culture and stunning landscape. It is excellent for the Senese, from the sensual tango music rhythms to the exquisite of its food.
Argentina's dynamic culture is its core, where tango music and advance represent the nation's spirit. By taking dance classes or seeing professional dancers in the neighborhood
Milongas, visits from the EU can fully experience the passionate world of tango.
The cuisine of Argentina is a gourmet treat. You can enjoy mouthwatering asado(barbecue), premium Malbec wines, empanadas, and dulce de leche. The food is a pleasure for any palate and is a voyage unto itself.
The natural splendor of Argentina is equally impressive. One of the most must-see waterfalls in the world is Iguazu Falls, which offers boat cruises and hiking trails through the dense rainforest. With its striking scenery, Patagonia is a haven for outdoor enthusiasts, offering activities like Andes trekking, glacier hikes, and whale watching in Peninsula Valdes.
If you plan a trip, consider including Buenos Aires for its diverse culture, Mendoza for wine tasting, the Lake District's astonishing scenery, and the Valdes Peninsula's wildlife.
5. South Korea
EU citizens with passports should explore South Korea's distinctive culture and traditions as its alluring fusion of ancient history and modern metropolis. This gem of Eats Asia is a place of contrasts, where advanced technology and historic palaces coexist.
The vibrant capital of Seoul skillfully blends ancient wonders with smart technology. The city is home to the opulent Gyeongbokgung Palace, where tourists may take in Korea's royal heritage and watch the Changing of the Guard event. The nearby Bukchon Hanok Village's historic hanok dwellings, winding lanes, and beautiful tea establishments take visitors back in time.
A visit to the Demilitarized Zone (DMZ) offers history buffs a fascinating look at the conflict between North and South Korea. This trip provides a glimpse into one of the world's most closely guarded borders and the chance to comprehend the intricate history of the area.
A fascinating adventure in and of itself is Korea cuisine. Popular street dishes like tteokbokko (spicy rice cakes), hotteok (sweet pancakes), and delectable bibimbap (mixed rice) are available in bustling street markets in cities like Seoul, offering a gastronomic journey. Enjoy an opportunity to try classic Korean foods like kimchi and bulgogi, essential to the country's culinary legacy.
South Korea is a fascinating visa-free destination for EU passport holders since it combines ancient heritage with smart technology. This place promises an intriguing fusion of the old and the new, whether you're touring palaces, traveling into the DMZ, or enjoying Korean street food.
6. Costa Rica
Costa Rica is another stunning visa-free destination for EU passport holders. It's a true ecological gem because of its beautiful rainforest, varied fauna, and immaculate beaches. Both nature lovers and thrill seekers will fund nirvana in this region of Central America.
The richness in Costa Rica's rainforests is a living, breathing picture. Hikers can traverse lush forests where colorful flora and fauna, like howler monkeys and brilliant quetzals, flourish in their native environment. Visitors can get close to these pristine settings with the help of national parks like Corcovado and Tprtiuguero.
The nation offers exhilarating activities for individuals with an appetite for adventure. The Monteverde Cloyd Forest's treetop zippling provides an adrenaline rush. Meanwhile, the Pacific and Caribbean shores offer fantastic chances for water sports like surfing.
Costa Rica is the ideal location for tourists who care about the environment, as it is a global leader in ecotourism. Choose eco-friendly lodging and contribute to neighborhood conservation activities to reduce environmental impact.
Various opportunities exist for wildlife enthusiasts to witness unusual creatures, such as sea turtles breeding on Caribbean branches and branching off the shore.
7. United Arab Emirates
Dubai and Abu Dhabi are the dazzling jewels of the United Arab Emirates (UAE), a land of richness and contemporary magnificence. EU passport holders can experience luxury unlike elsewhere in the Middle East.
Dubai is known as the City of Gold for its futuristic architecture and artificial marvels. The Burj Khalifa, the test skyscraper in the world, is at the center of it and offers expansive vistas from its observation deck.
Visitors from the EU can take advantage of the Dubai Mall's upscale shopping, the thrill of indoor skiing at Ski Dubai, or a relaxing stroll along the deserted Jumeirah Beach,
Abu Dhabi, in comparison, has a more traditional but no less striking atmosphere. With its sparkling white domes and exquisite construction, the Sheikh Zayed Grand Mosque is a recognizable representation of the city's extensive cultural history.
The UAE provides an exceptional experience for EU passport holders with its blend of modern luxury and deep traditions. Thai Middle East location will likely leave you in amazement, whether shopping in Dubai's lavish shops or enjoying the magnificence of Abu Dhabi's mosque.
8. Brazil
With visa-free entrance and various alluring prospects, Brazil, a country with a lively culture and incredible natural beauty, welcomes EU passport holders. Due to recent government measures, Brazil is now even more desirable as a visa-free destination for EU passport holders.
EU passport holders can experience Rio de Janeiro's enthralling rhythms during Carnival, travel through the spectacular Amazon Rainforest, and relax on the well-known Copacabana beach. The rich fusion of indigenous, African, and Portuguese elements has produced a distinctive culture that is celebrated nationwide.
Brazil also has several benefits for EU visitors, including the simplicity of visa-free entrance, the friendliness of its citizens, and the variety of culinary pleasures such as feijoada and acaraje. Travelers can take some dance instruction, see famous sites like Christ the Redeemer, and explore the Pantanal wetland's distinctive flora and fauna.
Brazil has recently improved its infrastructure and tourism offerings, making it an even more friendly country for travelers with EU passports. It's the perfect location to enjoy unique cultural and natural experiences.
9. Canada
Canada, an extensive and diverse country, entices EU passport holders with its unrivaled natural beauty, dynamic cities, and renowned sites. The unspoiled environment of the nation is a fold mine of adventure, offering countless chances for outdoor enthusiasts.
The Canadian Roickier's Banff National Park charms visitors with its imposing mountains, emerald lakes, and abundant wildlife. One of the most well-known natural wonders in the world, Niagara Falls, roars with awe-inspiring force.
Cities in Canada, such as Toronto, Vancouver, and Montreal, are vibrant cemeteries of creativity, culture, and gastronomy. Due to their multinational inhabitant, these cities offer an international flavor and experience. The northern lights illuminate Drak skies in the Yukon, and the coastal area provides access to marine charm and whale viewing.
Canada welcomes EU visitors with various experiences that reflect the widened, lively nature of the nation, from the busy streets of Quebec City with its European ambiance to the seaside treasure of the Atlantic provinces.
10. Iceland
EU passport holders who seek to experience spectacular natural beauty and adventure should travel to Iceland. From flowing waterfalls like Gullfoss and Seljalandfoss to the geothermal wonders of the Blue Lagoon and Geysir, this visa-free gem provides a diversity of beautiful landscapes.
EU citizens have the exclusive right to travel within Iceland easily. Starting with the capital of Reykjavik, you can discover glaciers, volcanoes, and black sand beaches by taking road journeys along the fabled Golden Circle and Ring Road. Take in the spellbinding Northern lights during the winter or in the summer.
Explore activities like horseback riding through the beautiful landscape or diving between tectonic plates at the Silfra Fissure. Ingvellir National Park is the site for these and other options. Pack layers, try the native cuisine, and maintain the fragile environment for a lifetime experience in Iceland. For visitors from the EU, exploring Icelnd is a passport to the wonders of nature, ensuring an unforgettable trip.
Thus, these top 10 destinations of visa-free countries for EU passport holders enable a lifetime experience from hassle-free travel. You must visit these places and embrace their culture, cuisine, and environmental settings. Ultimately, it opens several possibilities to boost your overall personality one step higher.
Exciting Travels Await: Explore the Visa-Free Destinations With Your EU Passport
The selection of countries without visa requirements is clear for those with EU passports because they offer a wealth of access and potential. From the beautiful Costa Rican landscapes to the energetic streets of Tokyo, these nations invite exploration without the burden of risks.
Travelers must, however, thoroughly research the admission procedures, observe local traditions, and pursue safety first. While awareness of travel safety issues assures a safe trip, understanding local costumes and etiquette increases cultural experiences.
To make the most of their visa-free travel advantages and create priceless memories around the world, EU members should embrace the variety of the world.
Plan your visa-free travel and discover a world of adventure, culture, and natural wonders. Contact Passport Legacy and commence your visa-free journey today.
Read more…
10 Richest People In Greece 2023
5 Richest People In Portugal
10 Richest People In Switzerland 2023